In the case of Hamilton College, unlike that of most other schools in this log, I came upon the college before I experienced its respective town of Clinton. As I drove through the college (tiny at seventeen hundred students), my first thought was how spread out the campus buildings were, but in the sense that the school is so much smaller than I was used to, that somewhat larger spacing had little effect. The original side of the campus had a lovely New England feel to it, although I must say I did not find the brown flagstone buildings quite as appealing as Colgate or Middlebury's, both of which have paid truly remarkable attention to appearance and consistency around their campuses.
As I walked into the admissions office, I was immediately approached by an older woman who pointed out the office's huge array of complementary refreshments, great informational materials, and upscale sitting area. The room reserved for the information session was quite fancy, and really set the tone for the rest of the college. The admissions assistant who gave the presentation put himself in my place and offered some perspective on the whole selection process since he himself went through the same process about ten years ago, in which he ultimately chose Hamilton. Realizing of course that many neighboring colleges offer much the same experience, he differentiated Hamilton quite nicely.
Academically, Hamilton is built around a fairly intense system of oral presentations and rigorous essays instead of the traditional college test. This was supported by a peek into a few of the classrooms, all of which presented very comfortable ways to foster discussion and debate, both of which are highly valued as part of the teaching method. Hamilton is often known as having a writing based curriculum, and thus requires several classes with writing elements for graduation.
This writing requirement is easily fulfilled, as almost all level two or three classes that count towards a major contain a writing element. Besides that one requirement, Hamilton offers a completely open curriculum with no distribution requirements or required classes. Although the admissions director explained that academic advisers may push students into a well rounded course load, the thirty two classes required for graduation are completely up to the student's choosing. For this reason, it is essentially very easy to double major or double minor at Hamilton, since students can dedicate so much time to classes of their fields of interest.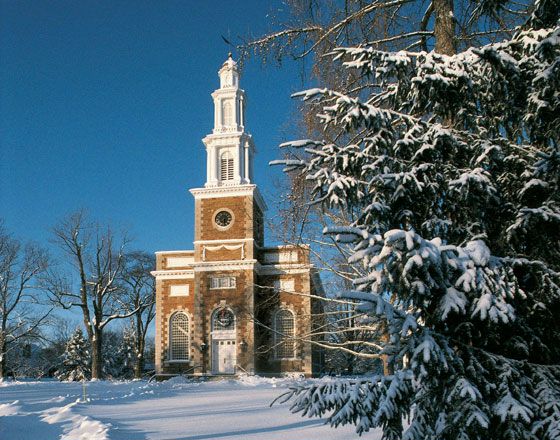 On the subject of academic opportunities, the school seemed to have a very good handle on study abroad and internship programs, which although not as extensive as Colgate's, still had strong ties to some rather prestigious universities all over the world. Among study abroad programs are new programs in Fiji and Australia, both of which were prompted by student interest in marine biology research and are completely funded by the administration.
While many student are way for one semester their junior year, those remaining at Hamilton seem happier than at any other school in terms of their housing situation. When a student matriculates at Hamilton before Freshman year, a student is given a survey on their personal living style as well as their housing preferences. Hamilton then matches students up with extremely suitable roommates that seem to get along very well and do their best to make sure each student gets into whichever dorm facility they want and gets an appropriate double, triple, or suite accommodation.
I later discovered that the surrounding town of Clinton is nearly nonexistent and though in good condition, lacks the community center and the environment that makes a good college town stand out. Whatever the case off campus, the facilities on campus were truly breathtaking for such a small school. A recently completed sixty million dollar science complex was recently donated to the college by alumni, which are in the highest percentile for post graduation giving and alumni involvement. I think the alumni statistic really speaks for itself: the students really love the experience at Hamilton. Facilities such as the science center were brimming with internship posters and research opportunities as well as customized lab setups for each study and state of the art equipment. Overall, a lot of recent construction has left the campus with several outstanding new facilities including a new social sciences complex with a very impressive layout and execution. My only major disappointment is the main library on campus which judging by the orange carpeting, dates back to the seventies. The building was overall unimpressive and its contemporary yet dated look looked very out of place amongst classical New England and strikingly modern glass and metal facilities.
My tour guide, being a male very interested in the athletics at Hamilton, was adamant in showing us all of the stellar athletic facilities, which were fantastic for a Division III school. Hamilton seems to have a lot of school spirit and pride in its athletic teams and conference, most noticeably in the hockey team and a few other standouts such as men's swimming. Amid the less competitive athletes, intramural activities are a very popular choice, as shown by the awesome "fitness" facility. 
Essentially your traditional neighborhood gym, this gym is geared more towards average level students and professors, since the varsity athletes have their own upstairs training facilities and excellent athletic trainer and physical therapist along with a highly lauded contemporary juice bar.
On top of its outstanding athletic programs, the school has a really awesome social scene that I think really tops off it's college experience as more well rounded and enjoyable than most. The student activities board is in charge of the latest great speakers campaign to bring in huge names and bands to the campus. On top of this great program, the school hosts tons of small performers of all sorts and seems to always have something of interest for students to do, including its own college pub, which hones in a snug campus atmosphere. I essentially believe that it is these touches on top of a very strong and student oriented education that makes the Hamilton experience unique. The students seem to be enjoying themselves beyond belief and loving the experiences open to them.
Admissions to Hamilton ran an percentile SAT scores of 1280-1460 and an ACT range of 29-33. The overall acceptance rate was 28%, and the Early Decision rate was 45%.